The pastorship role was conceptualised by Rinpoche to preserve the Dharma and to give laypeople an opportunity to commit to benefiting others. The first Buddhist Pastors were ordained on 24th October 2011 and every year since then, more have made this commitment to bring the Buddha's teachings to people in our modern era.
We now have 17 pastors, can you believe it! When I stepped into the gompa on the day of Pastor Tat Ming's ordination, I was just taken aback by how full the front row was with tables and cushions set up for the pastors. When the first pastorship ordination took place in 2011, there were just four pastors being ordained. With this type of growth in the last four years, for me it seems very obvious that Rinpoche's prediction of Kechara Forest Retreat becoming a world-class conscious community will definitely come true.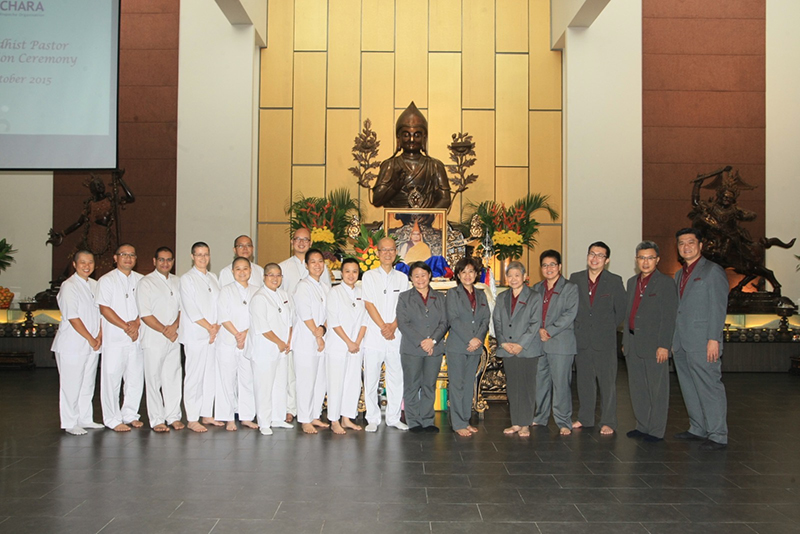 Blog post:
http://www.tsemrinpoche.com/tsem-tulku-rinpoche/kechara-13-depts/7th-pastorship-ordination.html

Comment:
Congratulations to Pastor Tat Ming on his ordination

there is so much to be proud of when I think back to this day! When Rinpoche first started the pastorship programme, there were the naysayers. They said it would never work out, that the idea was too different, Malaysians wouldn't take to it, etc. Well chickadees, the first pastors ordination ceremony started with just four people, and we now have 17 pastors…and there are more sangha-to-be (10) than there are lay pastors (7)!
I do think the pastors play an important role in the organisation. You might think, "Well of course you would, you're a pastor yourself" but that's not true – if I don't think something's beneficial, I won't say so 😛
So why do I think this way? In taking the vows, the pastors commit themselves not only to upholding the Lord Buddha's teachings, but also to spreading them. Since that is the essence of Kechara's activities and the pastors take vows to commit to this, it makes sense to say that the pastors play an important role in Kechara

can lay people do this? Of course but because the pastors hold vows, their activities carry the blessings of the vows with them.
Would I encourage people to become lay pastors? Definitely. When you take such an obvious step towards seizing responsibility for your and others' spiritual practice, it triggers a change in mindset. I mean, just having the intent alone to work towards becoming a pastor will already push you in the direction of spiritual growth.
So being a pastor offers you an opportunity to perform a self-check of your Dharma progress; if you are ready to be a pastor, it means you have moved on from the time you entered Dharma! And the change in mindset I spoke about? It's best described by the advice Pastor Yek Yee gave us before she gave us our ordination vows. She said every morning when you wake up, make your first thought, "I will be of benefit to others" then start your day.
I am very proud to be wearing the white uniform and to be associated with such an esteemed group of people that includes practitioners like Pastor Yek Yee. If you want to read more about Pastor Yek Yee, check out this blog link to see what Rinpoche has to say about this selfless lady: http://www.tsemrinpoche.com/tsem-tulku-rinpoche/inspiration-worthy-words/a-kind-soul-in-our-midst.html