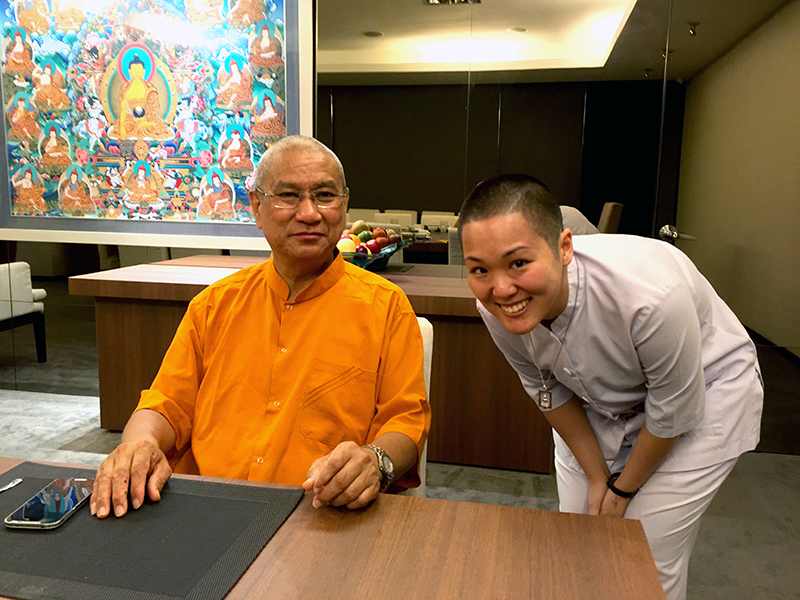 Today I had the honour of meeting a very special person who is respected by millions around the world. The Panglung Kuten (or Choje-la) is the official oracle of Dorje Shugden who was personally trained by the previous Kyabje Trijang Rinpoche. He has been taking trance for over 30 years and consulted by the highest lamas to monasteries.
Choje-la confirmed for us some very excting and profound news about the various previous incarnations of our guru Tsem Rinpoche. Through Choje-la both in and out of trance, we have learned that Rinpoche has many incarnations that stretches back for hundreds of years. He has identified them and related who they are to us. We were thrilled and not surprised but happy.
It was a very enlightening and special breakfast, not just because of who I had the privilege to sit with but because of the news Choje-la kindly confirmed to us. Indeed a meeting I will not quickly forget. This is not my only time I had the chance to meet Choje-la and certainly not the last.
༄༅། །༧སྐྱབས་རྗེ་ཁྲི་བྱང་རྡོ་རྗེ་འཆང་ཆེན་པོས་ངོས་འཛིན་གནང་བའི་བསླུ་མེད་ཆོས་སྐྱོང་རྡོ་རྗེ་ཤུགས་ལྡན་གྱི་སྐུ་བསྟེན་སྤང་ལུང་ཆོས་རྗེའམ་སྤང་ལུང་སྐུ་བསྟེན་ཞེས་ཡོངས་སུ་གྲགས་པ་འདི་ཉིད་དད་ལྡན་ས་ཡ་མང་པོའི་བརྩི་བཀུར་ཞུ་ཡུལ་དུ་ཡིན་པ་ནི་གོར་མ་ཆགས། བགྲང་བྱ་སུམ་ཅུ་ལྷག་ཙམ་ནས་བླ་སྤྲུལ་དང་གདན་ས་གྲྭ་ཚང་མང་པོ་ནས་ཆོས་རྗེ་འདི་ཉིད་ཁོག་ཞུགས་ཀྱིས་བཀའ་སློབ་བཀའ་འདྲི་ཞུ་ཡུལ་དུ་བཞུགས་བཞིན་པ་ལགས་ན། གུས་ཀྱང་འདི་རིང་ཞོགས་པར་ཆོས་སྐྱོང་ཆེན་པོའི་སྤྱན་འདྲེན་ཁོག་ཞུགས་ཀྱི་བཀའ་ལུང་དུ་རང་རེའི་བླ་མ་སྐྱབས་རྗེ་ཚེམས་རིན་པོ་ཆེ་སྐུའི་སྐྱེ་འཕྲེང་གི་ལོ་རྒྱུས་རྣམས་གསལ་བར་བརྗོད་པར་བསམ་གྱིས་མི་ཁྱབ་པའི་བཀའ་དྲིན་ཆེ་ཞུ་དང་འབྲེལ། འདི་རིང་གི་ཞོགས་ཇའང་ཆོས་རྗེ་དང་མཉམ་དུ་འཐུང་རྒྱུ་བྱུང་བ་ནི་དམིགས་བསལ་གྱི་དགའ་ཚོར་བྱུང་སོང་། དེ་རིང་གི་ཉིན་མོ་འདི་ནི་ནམ་ཡང་བརྗེད་ཐབས་མེད་པ་དང་ཆོས་རྗེ་མཆོག་དང་མཇལ་འཕྲད་འདི་ཡང་ཐ་མ་མིན་པའི་ཡིད་ཆེས་དང་བཅས།།
For more information about the Panglung Kuten: