Ever wondered where the money that people offer to Rinpoche goes to?
Back into Kechara, and back into Kecharians. All 100% of it.
And when I say Kecharians, I don't just mean it in the monetary sense.
In the picture above, Tham (the contractor we use for 90% of our renovation works in Kechara) and his two kids are receiving gifts from Rinpoche. Tham's hard-working, quiet, conscientious and delivers on time. He takes the initiative to spot if something might potentially go wrong, and he's reliable. If you know Malaysian contractors, you'll know that qualities like these are incredibly rare so Tham's work and care are deeply appreciated.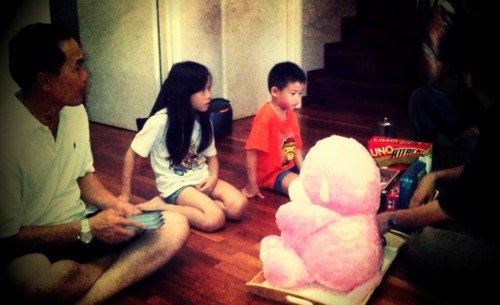 And Rinpoche wanted him to know this. Rinpoche wanted Tham and his kids to know that he cares for them, and will look after them and take care of them, just like he does for so many other people. So he asked some Kecharians to engage in the practice of generosity and giving, and pass some gifts to Tham and his family on Rinpoche's behalf.
What Rinpoche gave Tham and his kids is so much more than the toys and the pendants they received. What Rinpoche gave Tham with the gifts is a sense of being valued, of being recognised, of having security and feeling appreciated, and having that sense of "everything will be okay".
And that's the real gift for Tham and his family. Because once that happens, once Tham feels appreciated and valued, the Dharma can go in and Rinpoche can help him and his family even more, for future lifetimes.
So that's where your offerings to Rinpoche goes to. So if you've previously made an offering to Rinpoche, on behalf of all the recipients who have benefited from your generosity, thank you